If you're a writer with a passion for journalism or creative non-fiction, you may dream of seeing your work published in a newspaper or magazine. Perhaps you have just started a hobby and discovered a passion. Or you are struggling with a family conflict you know others will relate to. Maybe you came across a great tip or have insight into a topic many people might find helpful, or you are a seasoned freelance writer looking to expand your horizons.
Whatever the reason for grabbing the pen (or, most likely, reaching out for the keyboard), newspapers and magazines are always looking for the next great story to publish. In this article, we'll show you how to take those initial steps to get your work published.
A Unique Point of View
If there is one thing most freelance writers will tell you when you get started, it's this: You will probably spend much more time editing than writing. However, if you want to get an article published in a newspaper or magazine, nice words are not enough. You need a unique angle or a unique tone.
Coming up with a good notion can actually be easier than you might think. It doesn't have to be extraordinary; it just needs a personal or original point of view. It could, for example, be a first-hand experience that caught you up unexpectedly. Or a life-changing adventure. Or, why not? You can write about all the things you learned while working for a specific industry that you know readers will appreciate.
There are many reasons why writers choose to publish their articles in local publications. You might write articles to get more visibility as a writer, to generate an income, or to create high-quality backlinks to your own blog or website (keep in mind, though, that most newspapers will have little to no impact on your site's search engine results page position).
But Where Can I Sell My Story?
You have an idea. You have an outline that can introduce it to an audience. And, if things have gone right, you have an article ready to be shared. So what's next?
An important aspect of selling articles is learning where you can submit your stories. There are many places that could be interested in buying your article. And, if you are a new freelance writer, you might be surprised to hear there are more possibilities out there than applying directly to newspapers. Let's see what the main ways to get your articles online are.
Content Agencies
If you want to cast a wider net, press and content agencies are a great starting point. Instead of going to one particular newspaper or magazine with your ideas, agencies can help you understand which publications will be more interested in your article – and pitch it for you. If what you've written is quite unique, these different publications might even bid on your story like an auction! Agencies are the ideal places to share big feature stories.
Some stories can also be sold to multiple newspapers and TV stations so that you can get a fee instead of one payment. However, it's better to pick one agency as they will want to sell exclusivity to their clients.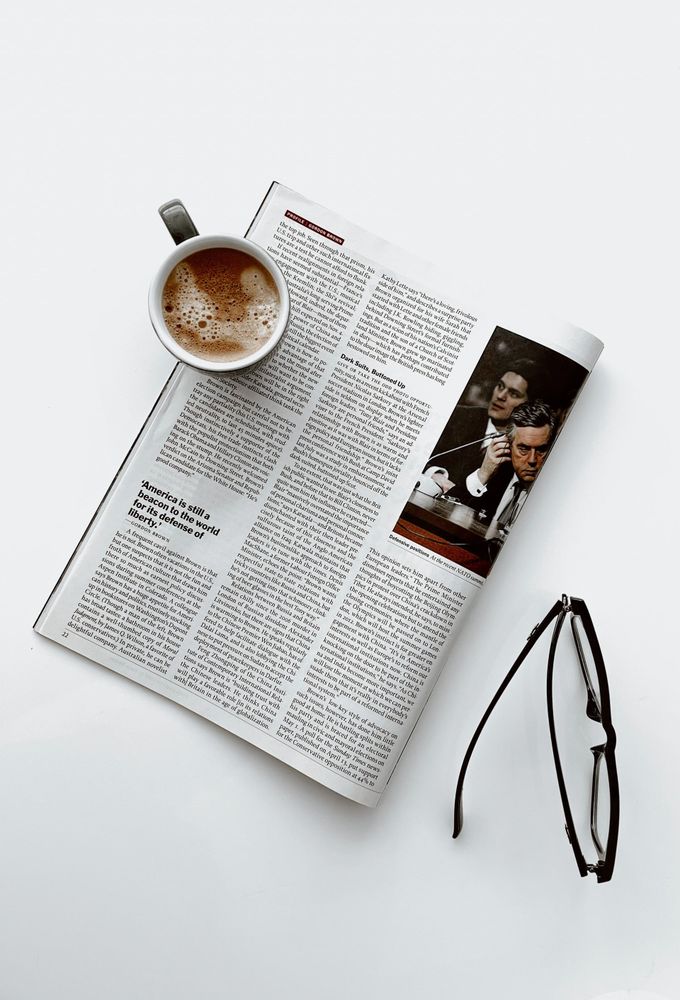 Also Read: What Are the Top Article Writing Topics?
Real-Life Magazines
Many magazines will be happy to pay for your story. A lot of them will let you fill in a form online and get back to you if they find your article interesting. It's always worth keeping an eye on their Twitter feeds – as they might be looking for specific topics. If you're a more experienced or niche writer, you might not consider this a viable business, but you can definitely make money sharing your life experiences with real-life magazine readers.
Newspapers
You can contact newspapers directly and offer your story to them. Almost all of them have forms on their websites, but you can also call, email, or even send them a Whatsapp.
Selling articles or stories to the newspaper is not effortless, but it's also not difficult if you follow the proper steps and are willing to put in some extra effort on top of the actual writing. For example, you might have to send many query letters and create different versions of your articles, such as short summaries and bullet points lists (we will go through this in more detail in the next section).
Creating a Good First Impression
As a writer, you might be thinking: My words should speak for themselves. But editors receive many articles a week and might not have the time to read every single line of them. Sometimes, the most important aspect of selling articles is knowing how to communicate with editors.
You definitely don't want to tell an editor how great you are (or how rejections haven't shaken your enthusiasm for writing). Instead, it's better if you focus on:
What you are submitting or proposing (an idea, an outline, a short fiction story, a blog post style article, etc.)
What other newspapers, magazines, or new publications have featured your work before. (make sure you include a link to your portfolio)
Your skills and relevant experience.
Why you think your article is good for publication.
These communications will be more diverse once you have established a relationship with different editors. Still, most of them will be happy to receive a one-page pitch letter rather than an entire manuscript. Once you've earned your reputation, you can bypass the query letter process. 
Writing Articles for Money
If you are new to the world of writing (or freelancing), you'll be happy to hear that you don't need to be an expert to publish your first magazine article and/or start making money writing. You don't need to do it full-time either; you can start with freelance gigs or small contracts.
There are a few different types of content that can make you money as a writer. These include (but are not limited to):
Selling your articles to newspapers and magazines
Writing blog posts (for others)
Self-publishing your work as an e-book
Writing scripts for video producers
Making show notes for podcasts
Writing content for marketing campaigns
Writing copy for websites
Your experience will of course determine which publications or customers will take your work.
How Much Money Can You Make Selling Your Articles?
If your story is in demand or exclusive, you can expect higher payments from newspapers and magazines. It should be noted that, as a profession, freelance writing is relatively unstable. If you pick this career, you should think of yourself more as a self-employed entrepreneur than a flighty artist.
Pay rates for freelance writers working for newspapers and magazines vary depending on the publication. The amounts also change depending on your experience and whether you have published other important pieces. In addition, your geographic location (or at least your market) will also determine your payment range. Some writers charge by the hour and others by the number of words. For an article feature (and considering all the factors we mentioned), you can expect to get $30-$120 an hour.
Free Places to Get Your Articles Published
If you're new to the world of freelance writing, you should consider uploading your articles to a free platform that can act as a portfolio of your work. One of the main advantages of using these sites is that they offer practically unlimited storage for your content. Plus, you can create shareable links, and Google will find your articles and index them in searches.
Some popular free sites to write articles and get them easily distributed to a broader audience include:
Medium: This popular publishing site has an easy interface, a network of users looking for things to read, and ranks quite high in google searches. Medium articles also look particularly good, as the site has chosen font combinations and layout options that improve legibility, readability, and aesthetics.
LinkedIn: You can publish your articles on LinkedIn and get a lot of attention, not just from your network but from people searching for that topic. LinkedIn is better for pieces in which you have subject matter expertise.
Scriggler: This content platform is focused mostly on helping authors maximize their outreach. Many freelance writers choose Scriggler to discover and comment on each other's work.
Ezine Articles: You can submit original articles here to get more exposure and traffic back to your site. This platform is better suited for freelancers trying to promote their own businesses.
Tumblr: Most people think of Tumblr as an image database. But you can also host articles there. In fact, Tumblr has a popular hashtag for them: #Articles.
Vocal: Sites like Vocal not only allow you to share your stories, but you can also earn money from reads, tips, and challenges. For example, you can make around $3.80 for 1000 reads ($6 if you have a Vocal+ membership)
Selling Your Article to Multiple Publications
When you are very knowledgeable about a topic, you can also get more mileage out of the articles you write. All you need to do is provide each piece with a new or different perspective.
Retelling or 'rewiring' your stories is both an excellent creative exercise and a way to improve your finances. The first thing you should do if you're considering expanding on a particular topic is to find the emergent patterns. Perhaps your first article mentioned something in passing. Why not expand on it, and turn it into a completely new angle? Or revisit something you might have wanted to flesh out… or even go over something you discarded before. You can dig in and see what more value there is in a topic, and that passion will always come through in your work if you are genuinely interested in something.
There's nothing wrong with remixing material to make more money writing articles. But, of course, this doesn't mean just spinning some words and sending the same article to different publications. Rephrasing can also take your writing in a new direction, turning it into a completely new story. Don't plagiarize yourself; start fresh and shower your subjects and topics in a new light.
Using Indy as a Freelance Writer
The road to getting your article published is never easy. There isn't a clear roadmap or specific steps to follow that will guarantee a positive outcome. But there is a lot you can do to turn your passion and endurance into a solid business.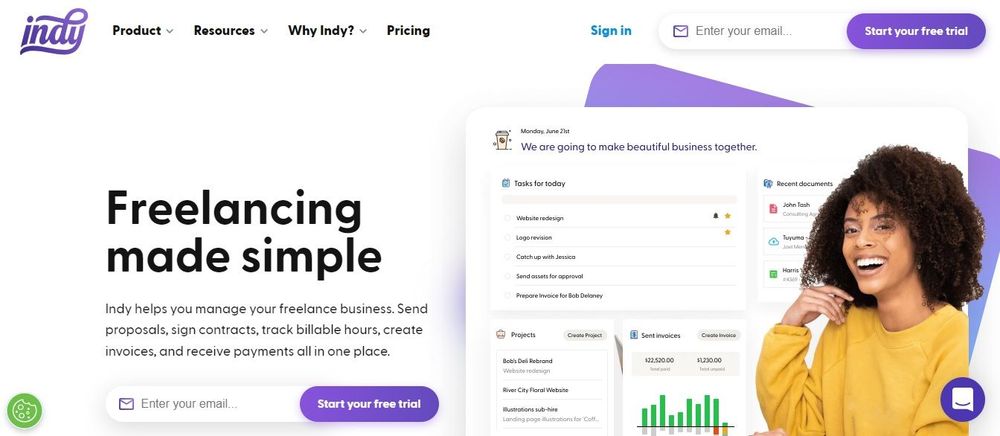 Indy is a one-stop platform that can help you boost your freelance writer career with powerful tools and an easy-to-use dashboard. These are some ways in which Indy can help you keep your work organized and your clients happy.
Calendar
Schedule meetings and keep track of all your article submissions with day, week, and month views. Indy's calendars can also sync with Google Calendar and integrate directly with the platform's time tracker. See what articles are due and keep track of invoices, contracts, and proposals. With Indy's friendly and colorful calendars, you won't miss your next writing deadline or all your hard work payments!
Contracts
Manage all your freelance writing contracts in one place. You can start with a template (or write your own article writing contract from scratch), edit the different fields, and sign and send in minutes. Indy offers legally-vetted freelance contracts for a variety of jobs and situations. They are flexible, support electronic signatures, and integrate with your clients and calendars. Define payment terms, deliverables, and project details, or create NDAs in seconds. Plus, Indy helps you protect your work and your client's information and keeps everything centralized, so it's always easy to track and follow.
Files
Who likes paper trails more than a writer? With Indy, you can store all of your articles, track changes and revisions, and get feedback and approval, all within one easy interface. You can manage your published articles, query letters to editors, and even ask for feedback without your client having to create an account. When you upload a new version of a document, Indy automatically adds version control so you can see all changes. Plus, all your files are securely stored in the cloud so that you can access them from any device (or provide someone with access).
Invoices
Generate and send invoices in seconds – and get paid for your writing work faster than ever. Indy's invoices make selling articles really straightforward. They look beautiful (you can include your own logo and use your brand colors) and are easy to send and pay. You can also set up recurring invoices to help you keep track of all cash flow without needing to create each document manually and set the tax rate and taxable items. Indy works with various payment methods such as credit cards, direct deposits, checks, wire transfers, etc.
Proposals
Organize all of your article writing submissions in one place. With Indy's proposals, you can create engaging, professional-looking, and impactful estimates and proposals to impress your clients. These documents offer a balanced combination of powerful features and functionalities and also allow you to keep track of their status. You can start with a template or from scratch (the platform uses drag-and-drop text, image, embed, timeline, estimate, and signature blocks). The system can, for example, tag them as Draft, Sent, Read, and Approved.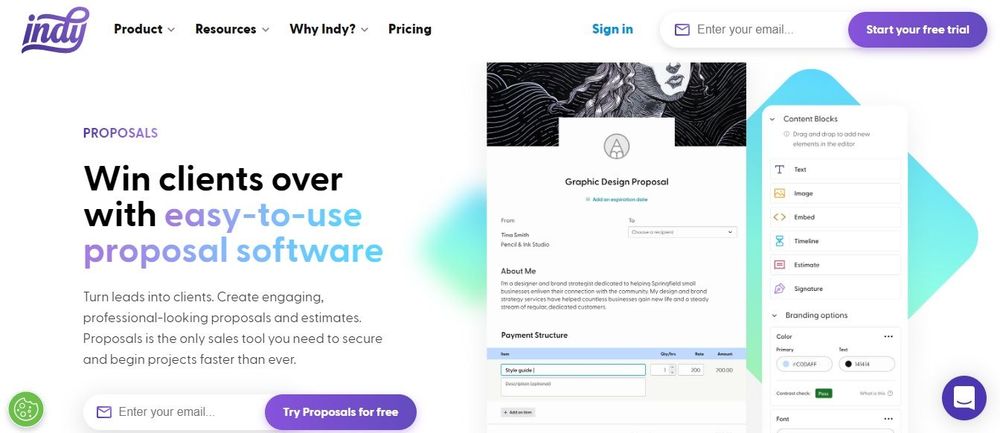 Tasks
Indy has an integrated to-do list app that is ideal for managing your daily tasks. For example, you can get a clear picture of the articles you have to write. This feature can be especially useful for freelance writers who want to divide their writing into smaller chunks—such as research, interviews, drafts, and editing. Your tasks are also automatically connected to your calendar, so you can easily keep tabs on everything.
Time Tracker
You can record, report, and get paid for your time all from one place using Indy. If you're a writer, you might charge by the number of words or by the hour. If it's the latter, you can use the time tracker to know exactly how long it took to write a specific article. This feature has two more advantages: It can help you stay more focused on your tasks and not on the clock, and it can give your client more clarity about what you wrote, when, and for how long. Because Indy integrates all of its tools, you can also add your sessions and entries to your invoices automatically (don't worry if you prefer to measure your time differently, you can also do a manual input).
People and Projects
In addition to the tools we just covered, Indy has two more essential features that can help you boost your writing career: People and Projects. With people, you can keep tabs on all your contacts. Each client, for example, gets a contact page that automatically collects all invoices, files, and other documents you have shared with them. And with projects, you can easily divide your writing jobs and manage their status, tasks, messages, and documents from the same dashboard.
Conclusion
In this guide, we showed you the importance of having a unique point of view, a list of places you can sell your stories to, and some tips for how you can make a great first impression on editors. We hope you put these tips into action and feel empowered to take the next steps in your freelance writing career.
Life – and writing- are complex, but Indy makes them simpler. You can start our Free plan today and take full control of your independent business from start to finish and, when you're ready, upgrade to Pro for just $12 a month.